Music festivals have been taking place since the Middle Ages, but it's fair to say a lot has changed since then! Nowadays, Music Festivals attract thousands upon thousands of visitors worldwide and serve as a product to build a brand for a destination.
According to Billboard, 32 million people go to at least one music festival every year in the US – 10% of the population. There are over 400 festivals each year in the UK alone and the music festival industry is worth £2.28bn globally.
As we know, Social media has risen substantially over the past 10 years, which in turn has played a pivotal role in the success (and failure) of a music festival. It is present throughout the whole customer journey from the initial awareness right through until after the festival has ended. The use of video content has played a big role in the success of social media as followers can almost experience it for themselves without even being there.
Social media can help music festivals to build a buzz, engage and connect with people and also given people FOMO (fear of missing out). So, here are four festivals who are nailing their social media strategies.
Coachella
Coachella is an annual music festival in the desert dating back to 1999. Now Coachella is more than a music festival, it's a subculture due to their amazing marketing strategy. So what are they doing right?
Coachella creates a consistent presence across all platforms, all year round. The festival may only be on for 2 weekends of the year but this doesn't mean social media should turn off in between! As soon as the festival is over the promotion for next years festival begins.
Their Instagram really is best practice. With a huge 2.1 million followers, they make the most of what the platform has to offer. They use stories to share events of the day, highlights are used for people to recap and reminisce and a perfect mix of imagery & videos, even using user-generated content for authenticity.
Coming around pic.twitter.com/LG7oLWf3pH

— Coachella (@coachella) May 29, 2019
We can't mention Coachella without talking about influencers and brand partnerships – they go hand in hand. Whether it's Revolve holding their own #revolvefestival or H&M being the headline sponsors, everything is documented across social media with relevant hashtags, all promoting Coachella. Although it's arguable that the brands are the real winners here – Revolve reported $1 billion in sales in 2017, which it attributes $650,000 to its network of influencers and events like Coachella, they even generated 4.4 billion social impressions at Coachella – five more than H&M.
Glastonbury
There is such a hype around Glastonbury that they don't need to worry about pushing ticket sales – every year it sells out within minutes. However, that doesn't mean they neglect social media, they keep is simple but effective.
The line-up announcement is huge. Whether you're attending or not, everyone wants to know who is headlining Glastonbury. Social media is the perfect platform to get the news out quickly and to get people engaging. This is how they announced the first headliner this year:
The posters were in the windows of Oxfam shops in Glastonbury and Streatham, close to where Stormzy grew up. This really got people talking! They announced it differently to usual but used the powers of social media to spread awareness as well as promoting their partnership with Oxfam and making a real connection with the headliner – so simple but genius!
Unlike Coachella and their numerous sponsors, Glastonbury approaches sponsorships sparingly, focusing on using their smaller profits towards charitable donations. Glastonbury pride themselves of being green and the work they do is almost as talked about as the music. They, therefore, utilise social media to promote their partnerships with Oxfam, Greenpeace & Water Aid, as well as highlighting all of the measures they are taking to work towards a greener festival and world. It's great to see that they are using social media to promote good, not just to benefit themselves.
"Today, just as much as in 1970, we have to work hard on our message. Glastonbury Festival is a Midsummer celebration of life and joy, but we must not lose sight of our undertaking to achieve the best possible balance of nature and resources."
– Michale Eavis
For the first time, single-use plastic drinks bottles will not be available to purchase at this year's Glastonbury Festival. Full story: https://t.co/RTfbRYKDBB pic.twitter.com/sKhB7yRxps

— Glastonbury Festival (@GlastoFest) February 27, 2019
They also have several Twitter accounts set up, all to help the 'festival goers' with their experience at Glastonbury and to make those not attending jealous!
#Glastonbury2019 on Twitter. These are our three official accounts…

🗞️ @glastofest official news, announcements and updates
📷 @glastolive regular photos and posts from right around the site
❓@glastoinfo answering Festival-goers' questions from 8am til late

— Glastonbury Festival (@GlastoFest) June 26, 2019
Related articles:
Parklife
Parklife is far from the size of Coachella and Glastonbury, however, it's grown substantially since it's creation back in 2010 and is a massive date in the Manchester events calendar. It began by pulling in 20,000 a day, now they get 80,000 people a day and are at full capacity.
The main thing that I love about Parklife is their branding, which is used consistently from their website to the staging, all of which is visible through their social media and makes a real difference to the user journey. The assets used across social platforms paints a true representation of the festival and what attendees can expect – it's fun and doesn't take themselves too seriously.
Parklife also uses social as a platform to share relevant information to help their attendees plan their visit to the festival but also sharing useful information to help keep everyone safe over the weekend.
Who's ready for the weekend?!

Don't forget to purchase your Parklife travel pass, £2.50 each way for bus / metrolink directly to and from the festival gates. https://t.co/brWJSs10YS pic.twitter.com/pZfQQFxFy2

— Parklife 2019 (@Parklifefest) June 6, 2019
We have received reports from police of a vehicle masquerading as a taxi attempting to pick up people leaving the festival. Vehicle is a silver VW Polo – KV610PS. Please ensure your taxi is pre-booked.

— Parklife 2019 (@Parklifefest) June 9, 2019
Then similar to Coachella, as soon as the festival is over they're using social media to promote next years event with an early bird offer – capturing the audience at the perfect time when they're still on a high from attending.
Tomorrowland
Tomorrowland is an electronic dance music festival in Belgium. It was first held in 2005 and has grown to become one of the world's largest music festivals, now stretching over 2 weekends and selling out within minutes.
With Tomorrowland, it's all about the visuals! With such awe-inspiring stages, it really is something to showcase across social and gives people the WOW factor. People who see the images get a true taste of what it would be like to attend the festival and would get serious FOMO.
Creating stunning visuals is a strong focus for the Tomorrowland team, they use YouTube to share their epic after movies, which in turn are then shared across all social platforms. This fantastic content has helped to improve engagement with users and shows in their strong social following (6.6m Instagram followers and 6m YouTube subscribers!).
Tomorrowland has really managed to capture a huge audience, no matter whether they attending or not, mainly due to their amazing, creative content. Do not underestimate the impact creative assets can have on your social media!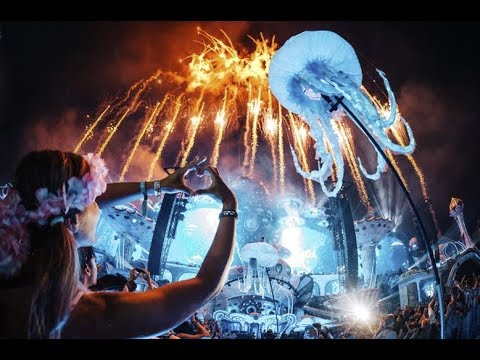 Fyre Festival – what not to do!
We've all probably heard about the disastrous Fyre Festival by now, it was certainly the most talked about the festival of 2017 – not for the right reasons! They used famous people such as Bella Hadid and Kendal Jenner to advertise the 'luxury' music festival where tickets could cost up to £75,000. Instead, they turned up to a building site with leftover hurricane tents & wet mattresses for accommodation and bread & slices of cheese to eat.
They used social media and influencers to paint the picture of an 'ideal' festival and Instagram worthy lifestyle, which was effective if they turned it into a reality. To promote the festival, influencers and celebrities shared a simple orange square to allude to its luxury and exclusivity – tickets sold out the same day.
However, Fyre Festival didn't follow through on its promise, it was very much a case of Instagram vs reality! Social Media was successful in building a buzz and helping to sell tickets, but the platforms were very much neglected once things started taking a turn for the worst. They deleted any negative comments and directed all complaints to an email that wasn't managed.
Ironically, social media, which built the festival, helped to reveal the truth behind it and uncovered the mess – basically destroyed what was left of the ruined festival.
3 key takeouts
Be authentic
Be consistent
Be present
It's really that simple! If you are inauthentic, you will be exposed. Never underestimate the power of social media!
While we are on the topic of music festivals...
Catch our recent blog on music festival branding and how Glastonbury has evolved since its inception in 1970!