Last Friday we held our first exclusive Partner Series Event – Digital growth in a sea of uncertainty and change.
We brought together clients for an afternoon of talks by our specialist team at Clicky HQ, followed by an evening of wine tasting at Veeno Chester. It was fantastic to catch up with so many of our clients!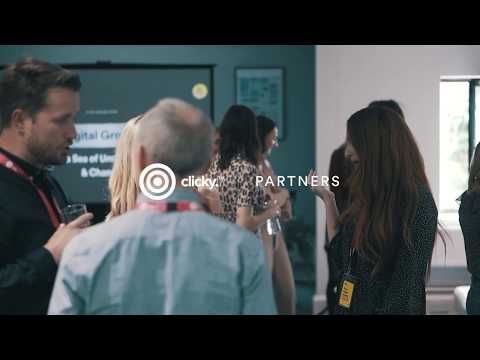 At Clicky, the team delivered 3 insightful talks about creativity, building trust and combined search.
The power of combining intelligent insight and compelling creative
Rhian, our Head of Creative, discussed how design has changed and why we should all be combining insight with creative thinking.
Data can tell us where to find our audience, how they spend their money, which device they are using, but it can't grab their attention. By injecting creativity into a campaign, we can use the data to create an informed story or narrative that emotionally connects with our target demographic and drive action.
Restoring customer trust in online advertising
Robin, our Senior Account Manager, highlighted the main concerns that consumers have with advertising and how these can be addressed. It is estimated that most people are exposed to around 4.000 ads each day!
The easiest way to communicate trust is through honesty – be authentic.
The evolution of search
Alex, our SEO Manager, took us through how the SERPs have changed over the years and why it's so important to have a combined search approach. Both PPC and SEO teams should leverage one another's strengths in order to get your business the most presence on search results pages.
82% of searchers choose a familiar brand for their first click.
eConsultancy
Afterwards, we headed to Veeno Chester for wine tasting!
Planning is already underway for our next event, we look forward to seeing even more of our clients next time.